Watercolorist,
Helene Pappas
Helene Pappas is a Watercolorist who enjoys its qualities, vast techniques, and making hand-made or manipulated papers to create texture and color to her creations.  Mixed media offers exciting extensions of creativity and broadening a concept to enhance and define the subject matter via inks, pastels, pencils, or other mediums. Discovering and investigating new techniques is fun and rewarding when enhancing a creative work!
Influenced by a creative family, attending museums, art events, traveling, mingling with diverse cultures, visiting local cultural centers or off-road adventures, B.A. Design from U.C.L.A. and studying with artists Ande Lau Chen and Ilana Block have impelled Helene's desire for artistic expressions via painting, dress design, interior design, and gardening. The elements of water or ocean themes are key components in her visions and expressed via jellyfish collages and ocean interpretations.
A resident of the Florida Panhandle, Helene continues to experiment, execute her creative endeavors, and actively connects with the local arts scene while accessing the richness of the community. Her works have been featured at Artel Gallery in Pensacola, Artful Things in Niceville, The Foster Gallery in Miramar Beach, and Mattie Kelly Cultural Events in Destin.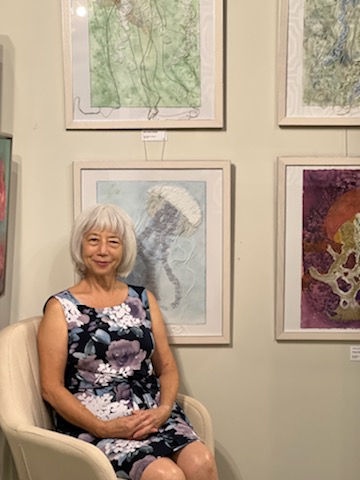 Do you have questions about my artwork? Email me using the form below.